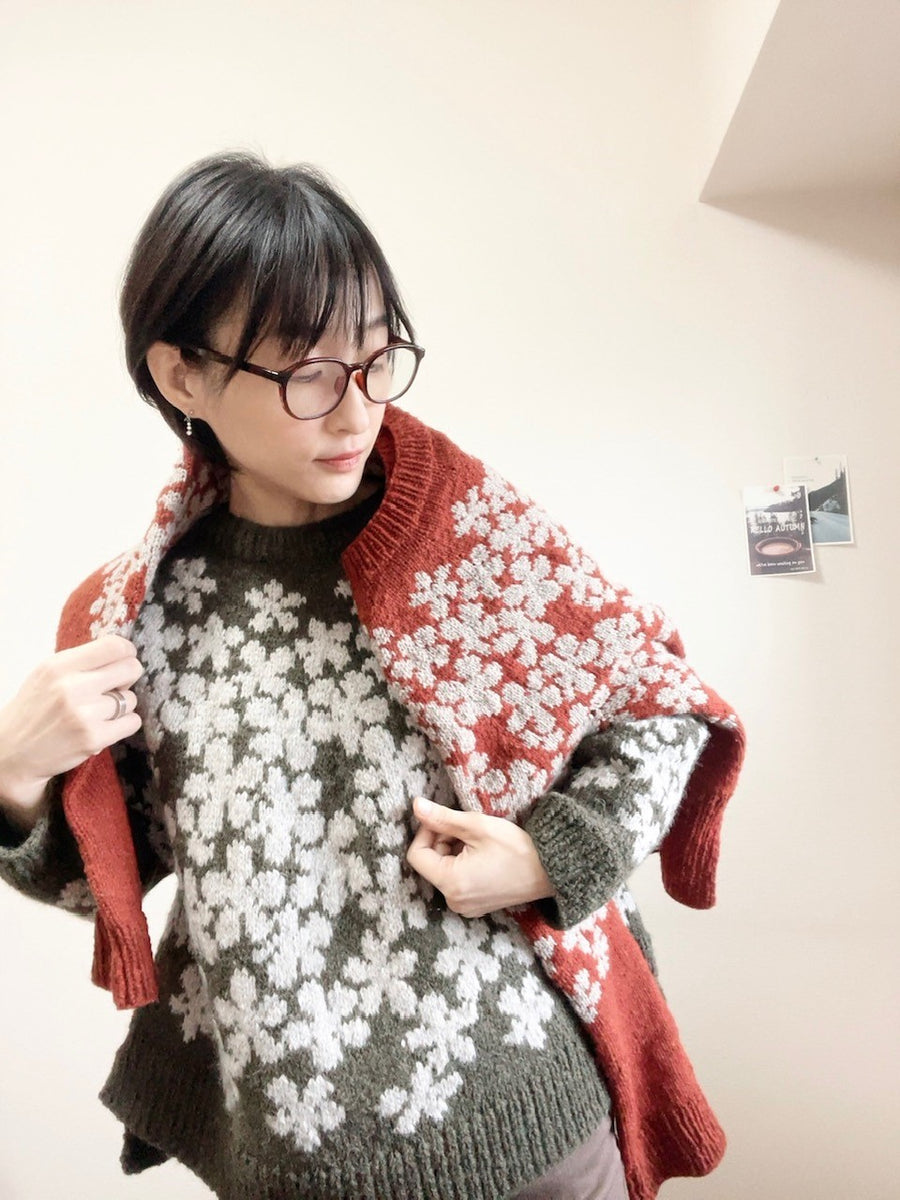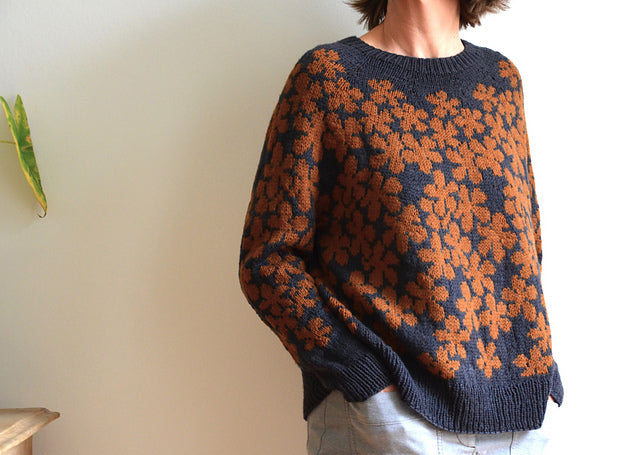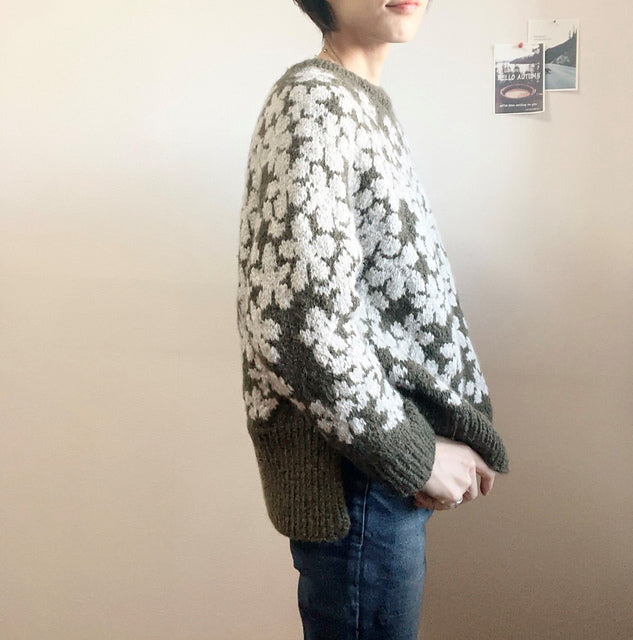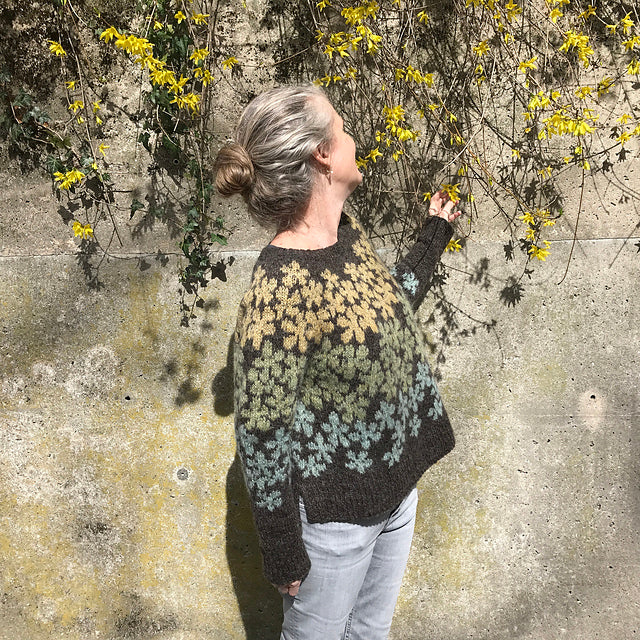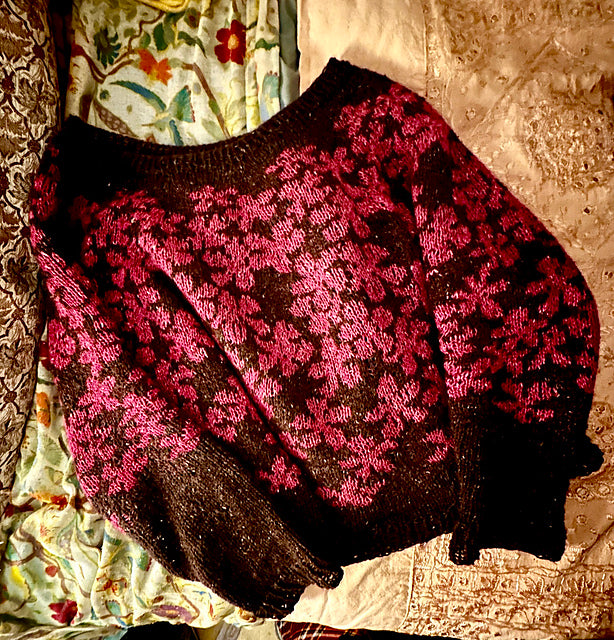 Maker+Stitch
Alyssum Sweater Knit-A-Long
Alyssum Sweater Knit Along every other Saturday from June 3rd - August 12th at Noon.
Our second summer knit-a-long is the stunning Alyssum Sweater by Tomomi Yoshimoto. This full on colorwork pullover has an all-over flower motif that is just lovely. It will be an heirloom for sure. Alyssum calls for one of two versions: one using DK or worsted weight yarn in two colors. search our yarn ideas for Alyssum here.  There is also the option for a thinner weight version using a sport-weight yarn.
We will start knitting on Saturday June 3rd from noon - 2pm and meet every other Saturday until August 12th.
We request that you purchase your yarn from Maker+Stitch for this knit-a-long. Thank you. Knit-a-longs are unfacilitated (we will be knitting with you though!). We have help sessions available @ $5 for 10 minutes or punch cards for one hour of help (in ten minute increments) at $25.
Find the pattern on Ravelry here.
Pattern Notes:
SIZES:
M-L (XL-2XL, 3XL, 4XL, 5XL)
Bust circumference: 120 (133.5, 148.5, 162, 173.5) cm/47.25 (52.5, 58.5, 63.75, 68.25) inches
Total length back: 64 (65, 66, 69, 69) cm/25.25 (25.5, 26, 27.25, 27.25) inches
Yoke length: 32 (32, 33, 34, 34) cm/12.5 (12.5, 13, 13.5, 13.5) inches
Underarm to hem back: 32 (33, 33, 35, 35) cm/12.5 (13, 13, 13.75, 13.75) inches
Neck circumference: 48 (50, 52, 54, 56) cm/19 (19.75, 20.5, 21.25, 22) inches
Sleeve length: 36 (36, 37, 38, 38) cm/14.25 (14.25, 14.5, 15, 15) inches
Sleeve circumference upper arm: 35 (38, 40, 44, 46.5) cm/13.75 (15, 15.75, 17.25, 18.25) inches
Wrist circumference: 24 (27, 29, 29, 31.5) cm/9.5 (10.5, 11.5, 11.5, 12.5) inches
Yarn needed:
DK or worsted weight yarn,
MC: 775 (875, 985, 1125, 1210) m/845 (955, 1075, 1230, 1320) yds, CC 500 (560, 610, 670, 725) m/545 (610, 655, 730, 790) yds
Needles:
US10 (6.0mm) circular needle, US8 (5.0mm) circular needle for ribbing
Gauge (after blocking):
Using US10 (6.0mm) needle, 21 sts and 21 rows = 10cm (4 inch) in colorwork
18 sts and 26 rows = 10cm (4 inch) in Stockinette stitch
THINNER WEIGHT VERSION:
SIZES:
M-L(XL-2XL, 3XL, 4XL, 5XL)
Bust circumference: 105 (118.5, 131, 141.5, 151.5) cm/41.25 (46.75, 51.5, 55.75, 59.75) inches
Total length back body: 61.5 (62.5, 64, 65.5, 65.5) cm/24.25 (24.5, 25.25, 25.75, 25.75) inches
Yoke length: 28.5 (28.5, 29, 29.5, 29.5) cm/11.25 (11.25, 11.5, 11.5, 11.5) inches
Under arm to hem back body: 33 (34, 35, 36, 36) cm/13 (13.5, 13.75, 14.25, 14.25) inches
Neck circumference: 43.5 (45,5, 47.5, 49, 51) cm/15 (18, 18.75, 19.25, 20) inches
Sleeve length: 36 (36, 37, 38, 38) cm/14.25 (14.25, 14.5, 15, 15) inches
Sleeve circumference upper arm: 31 (33.5, 35, 38.5, 41) cm/12.25 (13.25, 13.75, 15.25, 16.25) inches
Wrist circumference: 21 (24, 25.5, 25.5, 27.5) cm/8.25 (9.5, 10, 10, 10.75) inches
YARN:
sport weight yarn
MC 705 (850, 955, 1090, 1265) m/770 (930, 1045, 1190, 1380) yds,
CC 425 (480, 520, 570, 620) m/465 (525, 570, 625, 680) yds

NEEDLES:
US7(4.5mm) circular needle,
US5(3.75mm) circular needle for neck ribbing
GAUGE (After blocking):
Using US7 (4.5mm) needle, 24 sts and 24 rows = 10cm/4 inch in color work,