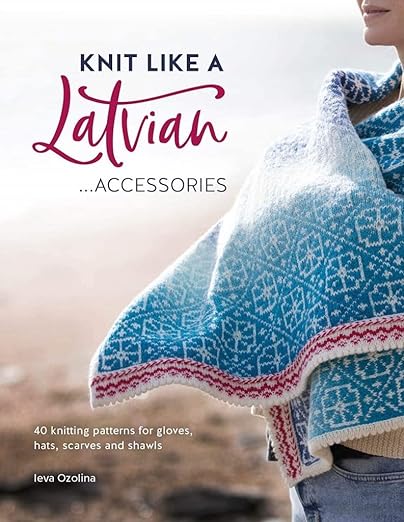 Maker+Stitch
Knit Like A Latvian Accessories
Knit yourself stunning Latvian accessories including gloves, hats, scarves and shawls with this collection of colourwork knitting patterns and charts from the author of Knit Like a Latvian: Mittens and Knit Like a Latvian: Socks.
Stranded colourwork knitting never goes out of fashion because the results are so beautiful. This is the third title in our Knit Like a Latvian series which looks at knitting patterns using traditional Latvian colourwork designs. This title features 40 patterns for gloves, hats, wraps and scarves all featuring a distinctive Latvian colour work design element. You can choose from gloves and fingerless mittens with selected colourwork details on the cuffs or an all over stranded colourwork design on a scarf or wrap for maximum impact.
Knitting has always played an important role in traditional Latvian culture: girls are taught to knit at a young age, and some schools still teach knitting as part of the curriculum. It is also traditional for brides to give socks and mittens as a gift to guests on their wedding day. This collection captures the essence of these stunning folk patterns and shows how you can mix these traditional designs with your contemporary wardrobe.
Author Ieva Ozolina has designed a range of accessories featuring traditional Latvian motifs and design elements such as Latvian braids to create this beautiful collection. The wider variety of projects and styles will give this title broad appeal and the accessibility of some of the projects such as the wraps and scarves make them suitable for less experienced knitters while the more detailed patterns for gloves will appeal to more experienced knitters. The size of the smaller projects means they don't use very much yarn and they make very portable projects for when you're on the move.
Knit Like a Latvian Accessories also looks at the stories behind the design motifs which are steeped in folk tradition - for example, if you include the sun motif design in your knitting it is thought that the item will offer extra warmth to the wearer - so you can understand the traditions behind the knitting.