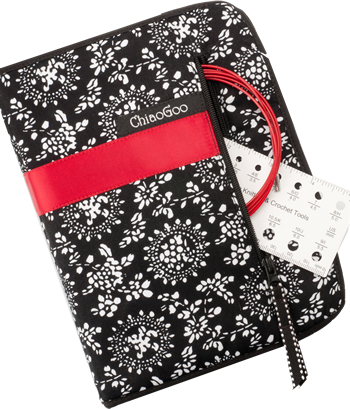 ChiaoGoo
ChiaoGoo TWIST Red Lace Large Sets
This Chiaogoo TWIST set includes five sizes of 5"  US 9-15 (5.5 - 10 mm) lace needle tips and three cable lengths.These precisely-machined, lace tips are made of surgical stainless steel. The size is laser imprinted on each tip. All TWIST tips can be used with TWIST or SPIN nylon cables. 
The three included TWIST cable lengths will make 24" (60 cm), 32" (80 cm) and 40" (100 cm) circulars. 
TWIST red cables are memory free! They consist of a multi-strand, steel cable coated with red nylon. Also included with each set are easy-to-read, coded cable connectors, end stoppers, T-shaped tightening keys, stitch markers, a needle gauge and compact, zipper-enclosed, fabric case. TWIST & SPIN tips, cables and accessories are all switchable!