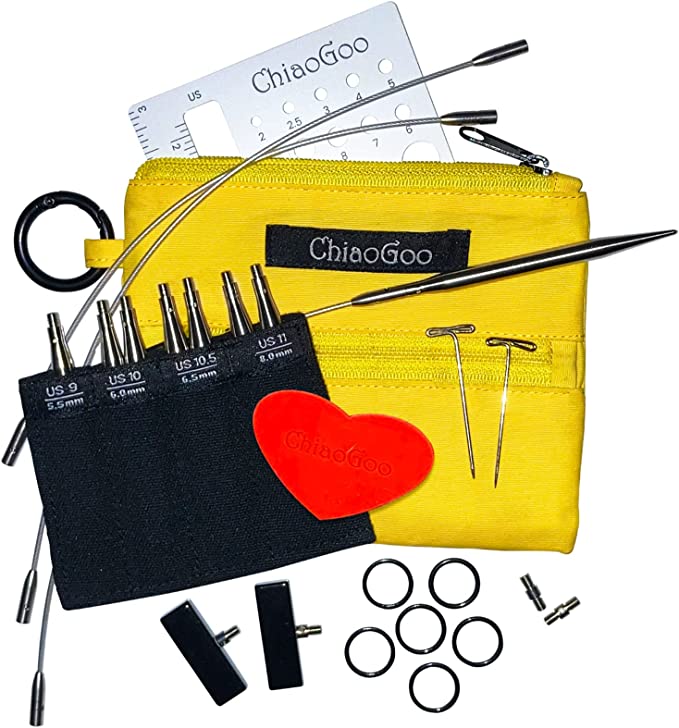 ChiaoGoo
Chiaogoo TWIST Shorties US 9 -11 Tips
New from Chiaogoo! Make 9″  through 14″ circulars with Chiaogoo's TWIST Shorties!  The most recent addition to Chiaogoo's TWIST interchangeable system,  this set includes:
4 pair of surgical stainless steel tips in sizes US9-11 (5.5-8mm) [L]

3 SWIV360 [L] cables: two 6" (15cm) and one 8" (20cm) to make 12" (30cm) or 14" (36cm) long circulars

All tips, cables and accessories come in a yellow, compact, zippered pouch with clasp ring to secure inside your knitting bag. Dims: 4 3/4" (120cm) x 3 7/8" (10cm)

Each tip is laser imprinted with the US/metric diameter size. All parts/pieces are coded [L] for easy identification and use. Similarly coded SPIN and TWIST tips, cables and accessories are switchable.

Included with the set are 2 end stoppers, 2 cable connectors, 3 cables, 2 tightening keys, 6 stitch markers, a labeled tip sleeve, and a swatch/needle gauge.