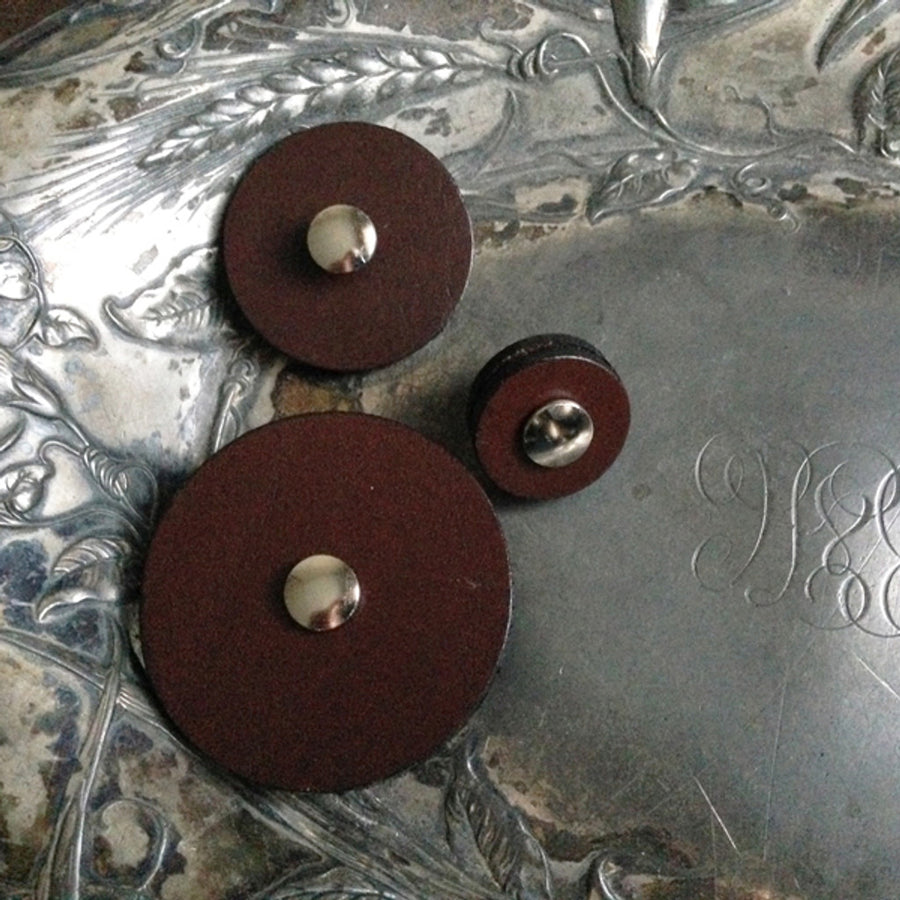 Jul Designs
JUL Leather Pedestal Button
Pedestal Buttons are improvisational.  These closures require no commitment, no sewing, and no pre-planning.  Instead, they are flexible components that can transform knitted garments and accessories.  To use Pedestal Buttons, unscrew the leather backing and remove the back disk from the shank.  Holding the front disk (on the screw mechanism shank), work the shank gently in between the stitches of your knitwear from the front.  Place the back disk of leather, smooth side out, over the screw shank on the inside of the knitwear.  Screw in the backing with your fingers to secure.
These innovative screw-in "buttons" can be used not only as substitutes for conventional buttons, they may also be used to create shaping, to attach one knitted piece to another, and to baste knitted fabric so that it stays in place semi-permanently (see the Marmalade and Chocolate Collar in the Furrow pattern).  Be creative.
Made and assembled in the USA
Genuine leather
Available from M+S in 1.5 inch diameter
Packaged individually
Click HERE to see a demonstration video on YouTube
Click HERE to see a video demonstration on styling ideas using screw-in closures and pedestal buttons 
This classic and longtime favorite Twig Shawl Pin has been re-designed to incorporate a matching metal stick, which can be worn on its own, instead of the rosewood stick we used for many years.  It's even more lovely and delicate than it was before! We love the result and we know you are going to love it too.
The botanical simplicity of this pin allows it to complement a broad range of knitwear designs and weights of yarn from the rustic to the refined. 
Handmade Fair Trade in Indonesia
White Brass
2 inch square ring with 4.5 inch stick
Total weight - .7 ounces
Weight of the stick alone - .3 ounces