We are so looking forward to hosting our April 2024 Brioche and Wintery Ranch Retreat here in the Colorado Rockies with Bristol Ivy. 
Our adventure will take place high in the Flat Tops of western Colorado from Thursday, April 11th  - Saturday, April 13, 2023. This retreat will take place at Wind Dance Ranch, a private ranch on 750 acres above Dotsero, CO. We are very excited to have Bristol Ivy join us to teach both Introduction to Brioche and Next Level Brioche over three sessions. 
For two nights and three days, surrounded by stunning snowy mountain vistas,  we will knit, relax, and explore the vast, serene property with friends. 
Bristol Ivy is a knitting designer, teacher, and author from Bangor, Maine. Her work has been published with PomPom Magazine, amirisu, Quince & Co., Making Magazine, and her own eponymous pattern line. She has taught at such events as Squam Art Workshops, Edinburgh Yarn Festival, and Vogue Knitting Live, as well as yarn shops worldwide. 

(summer at the ranch - it will be snow-covered when we're there)
Bristol's recent books, Knitting Outside the Box and Knitting Outside the Box: Drape and Fold, both with PomPom Press, explore her lifelong commitment to breaking rules and finding beauty in unexpected places. When not knitting, she's sewing, running, watching far too many British murder mysteries, and baking a mean loaf of oatmeal honey bread. Find her online at bristolivy.com and on Instagram and Twitter as @bristolivy. We're excited to have you meet and learn from her in this intimate setting.
Brioche is an easy stitch that creates a lush, drapey, warm fabric. With Bristol, we'll first learn the basic principles of working brioche flat, identifying and fixing mistakes, and increasing and decreasing in pattern.  We'll move on to learn how to make your brioche seamless, how to incorporate two colors in the round, and how to work two colors flat.  Experience needed: knitting, purling, increasing, decreasing, working in the round.
In addition to the brioche classes, you will have the opportunity to kick back, share stories, eat great food, relax, and keep your needles moving, or snowshoe, AT Ski, or cross country ski in the peaceful surroundings. There's hot-tubbing and a firepit too! 
Our retreat starts when we meet at Maker+Stitch in Edwards at 10am Thursday morning. From the shop we will head to Wind Dance where we will settle in. We'll enjoy a big, late lunch at the hut after which we can explore outdoors or just relax, that's up to you. We'll then have our first afternoon session with Bristol.
Thursday evening is for relaxing, eating a home-cooked dinner, and sharing each other's company, perhaps with another hot tub and/or sitting around the fire, or a nighttime snow walk. With a clear night, star gazing will be a highlight.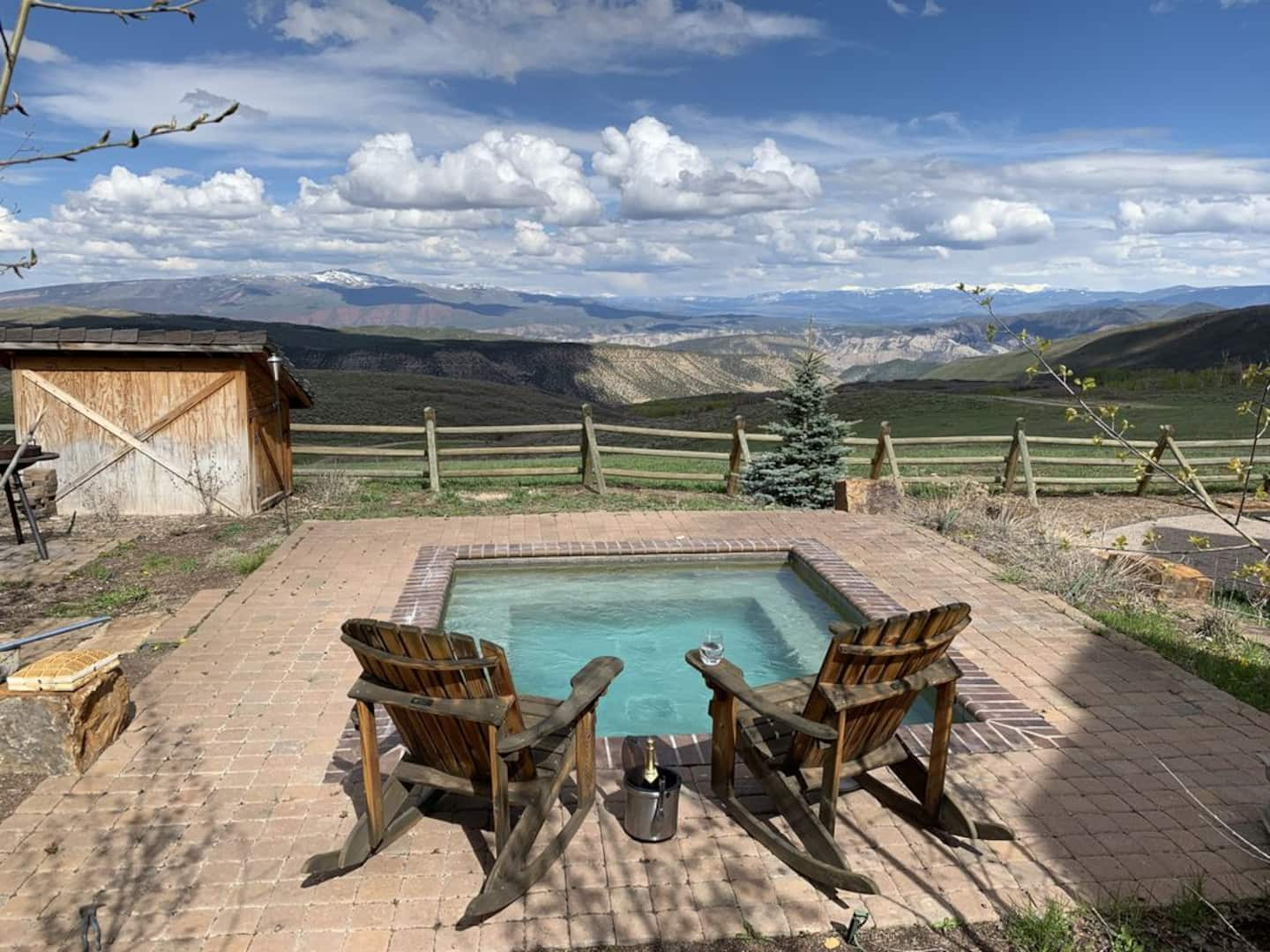 Friday we'll wake up to a yummy breakfast. We will either head out to continue exploring our private 750 acres with a snowshoe or ski, or just relax with your needles. 
We'll enjoy a delicious buffet lunch, and then Bristol will hold her second teaching session of the retreat. Again, we'll spend the evening knitting, dining, hot-tubbing if desired, and relaxing around the firepit.
Friday we wake up to another tasty breakfast, our third session with Bristol, then head out for our drive back to Edwards. We will arrive back at the shop by 1:30 PM. This is the end of our retreat but we hope you'll explore our sweet town for lunch on your own, or shopping at Maker+Stitch and at Edwards' many boutiques. We are excited to hike, knit, and learn brioche from Bristol Ivy with you!
Important: Attendees must be free of illness from Covid or any flu-like sickness. For those traveling from afar, The ranch is at 7200 feet above sea level so you may want to plan a day here at altitude prior to the retreat to help acclimate. To get to Edwards, you will fly into Denver or Vail-Eagle and either rent a car or take a Colorado Mountain Express van. It is not a difficult drive but Edwards is a two hours and 15 minute drive from the Denver airport. 
Accommodations are double and communal occupancy. If you are not comfortable sleeping in a room with others, this retreat may not be for you.
Our retreat is limited to 13 participants. Pricing is based on the sleeping accommodation you choose -- from $1,100 - $1,600 per person. This includes all lessons, two nights lodging, meals at the Ranch, snacks, and transport to and from shop to the Ranch.
More details about what to bring will be available after registration.
All cancellations must be received by February 1st, 2024 for a full refund, except a $150 non-refundable deposit. All cancellations must be received in writing via e-mail. No refunds for cancellations will be issued after February 1st, 2024. If you cannot attend, you may send a substitute in your place at no extra charge. Substitution requests must be received before March 21st, 2024. 
Please feel free to contact us at hello@makerandstitch.com or 970-569-2744 with any questions.